If you're looking for a flexible group office space to accommodate the work needs of your large or growing team, Venture X Charlotte-The Refinery has options for you.
Our office space for businesses includes private office solutions that beat out traditional offerings, mostly due to our flexibility and ability to respond to the changing needs of large and growing teams – with no long-term contracts and simple lease terms.
We have deep expertise helping a variety of business types find the solutions that fit their team space needs. Because of the thoughtful way we build out our locations, we are able to suggest configurations of office spaces that will accommodate a team within a business that needs to be in the same physical location but not necessarily in the same room – great for a group that's already formed or one that anticipates immediate or near-term growth.
These options are also viable for businesses with remote teams in proximate physical locations that need a flexible option throughout a month or over the course of a year.
Our Private Office Solutions Work for Large Teams
So, what do we mean when we say flexible configuration in terms of private office space for rent? For example, a team of 10 people might be looking for a group office space to fit their needs.
Instead of simply opening up a large, standard box of a room that other outdated coworking spaces might offer, we might suggest that this team rent four 4-person offices, in which a manager sits with two employees in one, with room for a spare desk or a table, and the remaining team members split the other offices that are adjacent to one another – with room to grow into the existing space.
And on top of that, these members now have full access to the broader community for networking and full access to conference and meeting rooms if they need them on demand.
Our on-site staff are skilled at working on this kind of flexible configuration with individuals and businesses, from freelancers and startups to small and midsize businesses all the way through full enterprises. If any of these sounds like you, we hope you'll consider booking a tour or scheduling a visit.
Why Large Teams Choose Our Office Space for Businesses
We offer a variety of memberships, from a community option to shared desks and private offices of different shapes and sizes. Based on our years of experience, we know that all private offices are not alike – we can help you find the luxurious, professional space – or spaces – that fit the unique needs for your large team or teams.
Venture X offers truly turnkey solutions with flexible lease terms and no long-term contracts. We competently respond to the changing needs of our members when they request a change to their membership and have a variety of group office space options for you to choose from based on how you plan to use your space.
Our hospitality-trained staff can skillfully discuss the various options that will fit your needs today and in the future, and we're also always ready to help you continually refine them as your team and business grow and expand.
With a private office workspace at Venture X, you will receive:
● A desk, an ergonomic chair, and a locking door
● Insulated walls for privacy
● Frosted glass panels to allow both natural light and privacy
● 24/7 access
● Access to meeting and conference rooms
● Full community access
● Printing, copying, scanning, and shredding services
● Inclusion in member events and the ability to host your own
● All other amenities

If you're interested in learning more about our group office space options, please reach out today to schedule a tour or learn more.
Related Articles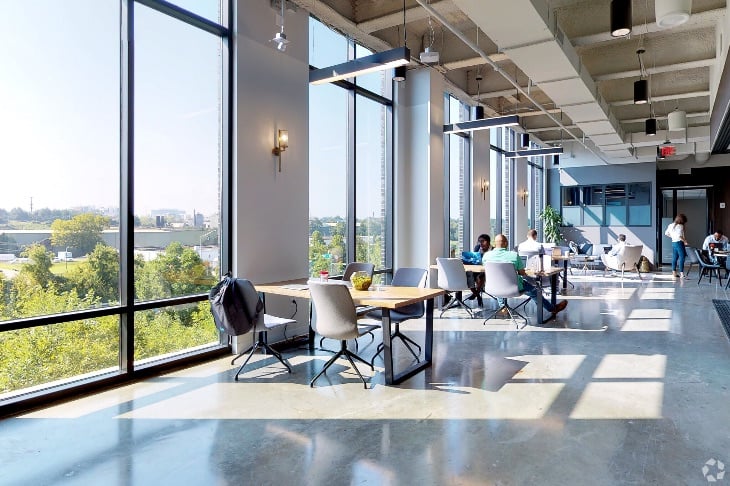 You might find yourself wondering how to manage your time effectively in the workplace. We've got you covered! As experts in the area of coworking and shared office...
Read More